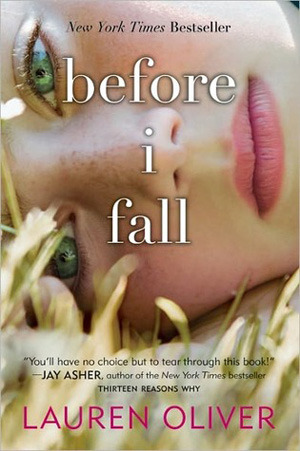 This month I finished the book called Before I Fall by Lauren Oliver. This book is about a girl named Sam who starts off living her life completely normal in the beginning of the book. She's a popular girl in high school with a boyfriend and a close group of friends. Her best friends she spends practically every second of every day with are Elody, Ally, and Linsday. The story begins with Sam waking up one day in her bedroom at 6 in the morning. She gets ready for Cupid Day at school. Cupid Day is a day in school where each kid can give and receive roses to each other and write little quirky notes with them. Sam and her friends always wear the same planned outfit which consists of a pink tank top and a short skirt. Lindsay picks her up from her house and drives her, Ally, and Elody all to school together. During school, an old friend of Sam's, Kent, invites her to a big party he is having after school that night. Sam and her friends all decide to go to the party that night, and when they get there something really bizarre happens.
A girl named Juliet Skyes shows up only to say to Linsday, Sam, Elody, and Ally, "You're a bi***." Juliet Skyes is a girl that goes to the same school as Sam and her friends. She doesn't have many friends at all and Linsday, Elody, Ally, and Sam are always teasing her. Linsday and Juliet used to be very close when they were children, but now things are different and now Lindsay torments her with words and insults. Every Cupid Day, the girls give Juliet a rose with a note that says, "Maybe next year, but probably not.". When Juliet shows up to the party and confronts Sam and the other three girls, the whole party goes wild and throws drinks at Juliet and she runs out of the house. On the way back from the party, Sam and her friends scramble for the aux cord then all of a sudden-. Their car flips off of the road.
Now you may be wondering why I've just explained all of Sam's day in such detail. Well, let me explain. Sam died that night, but she doesn't figure this out until she wakes up in her bed in her bedroom on the same day, Cupid Day. She goes through her whole day blinking double-time and having a constant "deja-vu". She sees the same people doing the same things and saying the same things to her all at the same times. The next day the same thing happens until she realizes it is not a dream and she is reliving the same day over and over again. After she realizes that no matter what she does the past will be erased, she completely gives up her reputation and flirts with teachers, steals her mom's credit card, and skips school with her little sister.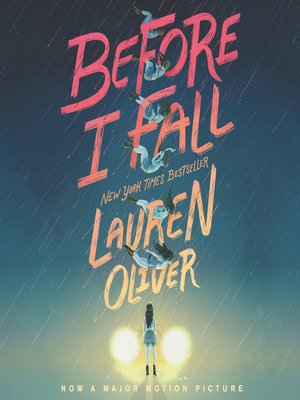 By the end of the book, so much more is revealed, but you're going to have to read the rest to find out. When I was done reading the book, I started to watch the movie but stopped halfway through because I was so frustrated. The movie did not show many of the things that happened in the book and kind of ruined it for me. I hope that if you read this book, you enjoy the movie because I sure didn't. I really enjoyed this book and I recommend you read it for yourself.